When a Priest Becomes All for All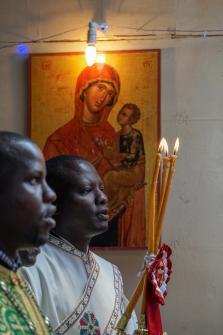 As the outbreak of COVID-19 continues to dramatically impact the lives of people around the world, mission priests supported by OCMC's Support a Mission Priest (SAMP) program continue to minister to people in and around their communities.
His Grace Bishop Neofitos of Nyeri, Kenya, where many of the priests receive SAMP support, recently reflected on clergy who are serving during such times, saying, "He is the mouth, the hand, the legs, altar boy, and the strength of those whom he is entrusted to serve. Many years, holy fathers. You give me strength and joy seeing that coronavirus can't stop you from serving the Lord until the kingdom of the Lord comes! Keep on the good fight, put on the armour of the Lord."
In countries where these mission priests serve, social distancing can be a near impossible proposition. They are not alone in their hardships.
Everyday, thousands upon thousands of Americans are cut-off from ailing loved ones. More are being furloughed or losing their jobs all together. If you are in any of these dire situations, please know that you are in our prayers.
If you are still able, please prayerfully consider clicking the donate button on this e-mail. Your gift will help OCMC continue offering vital support to SAMP priests, which they still need during these trying times.
Thank you in advance for your sacrificial offering and for your continued prayers, especially for these mission clergy. May God continue to bless and keep you and may we all continue to focus on prayer through Lent in anticipation of Christ's glorious Resurrection.