Throughout the year, individuals and parishes host events that raise awareness for the mission of the Church. These events can be large or small, but all of them help people to understand the incredible gift we have to share with the world – the Orthodox Christian Faith. From ideas, to planning, to ticket sales and giveaways, we are here to help you create a perfect event for missions!
Guest Speaker Presentations
Invite an OCMC Missionary or Staff Member to share the work of missions with your community.
Coffee Hour
Host a coffee hour after Liturgy that features foods from a country where the Church is active in trying to welcome people into the Body of Christ.
Run/Walks
Coordinate a 5K or 10K Run/Walk to benefit missions. This a great way to get people from outside your parish involved. They can even be done virtually.
Tournaments
Events like golf tournaments and bowling tournaments are a fun way to engage your community in missions and a great opportunity for fellowship.
Dinner or Luncheons
Pick the Feast day of a missionary saint or Mission Sunday (the first Sunday before Lent) to host a dinner or luncheon.
Banquets
Organize a banquet or gala that includes all of the Orthodox parishes from your area to come and learn about Orthodox missions from a special guest.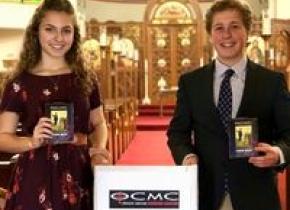 OCMC Mission Sunday
Sunday, March 6, 2022
At A Local Parishes Near You!
Nationwide
PLACE YOUR ORDER
DECEMBER 1 FOR
2022 COIN BOXES
AND LESSON PLANS!