Thank You for Answering the Call to Support Mission Clergy for #GivingTuesdayNow
Thank you for responding to the need of mission priests around the world struggling in the wake of the outbreak of COVID-19 for #GivingTuesdayNow!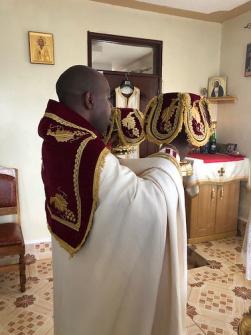 Last Tuesday, for #GivingTuesdayNow, we shared with you a great need that is growing amongst mission clergy serving around the world. We told you stories from hierarchs in Africa and Asia about the uncertainty these priests are facing in the wake of the outbreak of COVID-19 and how these priests are continuing to try to serve their communities in the face of this uncertainty.
You responded in a huge way with donations totaling more than $17,000 to support these priests!
We cannot thank you enough for your outpouring of love, especially considering the struggles we are all facing here at home as well. As Orthodox Christians we are taught,
"For I do not mean that others should be eased and you burdened; but by an equality, that now at this time your abundance may supply their lack, that their abundance may supply your lack - that there may be equality." - 2 Corinthians 8:13
We pray that, through your sacrificial offering, you also feel rewarded. We pray that you are now able to share in the joy, peace, and hope you have brought to others through the sharing of your own treasures.
Thank you!