St. Mark's Helps Renovate Albanian Preschool!
St. Mark's Helps Renovate Albanian Preschool!
The children are loving their new playground equipment!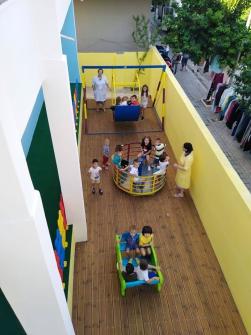 Thanks to the support of St. Mark Greek Orthodox Church in Boca Raton, FL, a preschool in Albania was able to fully renovate their playground area!
The preschool is in Vlore, Albania, and it was established in a building with the blessings of His Beatitude Archbishop Anastasios for the Spirit of Love Foundation. It was in great need of repair, however; the plaster on the walls was cracked, and they needed to create a more welcoming and engaging play area for the children. Thanks to St. Mark's, and the leadership of OCMC Missionary Anastasia Pamela Barksdale, they were able to take care of their needed renovations!
The work started in earnest in September 2019. They added a wooden deck, green grass carpeting, and a colorful fence to the play area. A local artist painted the walls with letters and shapes, and they added tricycles, small cars, a teeter-totter, a merry-go-round, and a swing set for the kids! Needless to say, the children love it all. This was a wonderful gift for them. And the renovations also made it possible for the school to support several additional children!
The support of a parish here in the US can go a very long way for our Orthodox brothers and sisters around the world. Thank you so much to the St. Mark community for this wonderful gift for these children in Albania!