OCMC Welcomes His Eminence Archbishop Elpidophoros of America
Fr. Martin Ritsi welcomes His Eminence Archbishop Elpidophoros of America at the Mission Center (Photo credit: Greek Orthodox Archdiocese of America)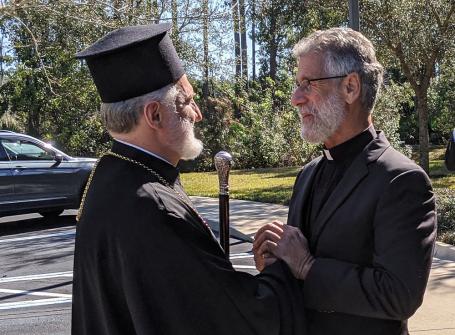 On Saturday, February 8, His Eminence Archbishop Elpidophoros, primate of the Greek Orthodox Archdiocese of America, visited the Mission Center in St. Augustine, Florida. We were blessed to give him a tour of our facilities, share more about the work we do, and host him for a pleasant lunch.
"It is love that is the basis of our missionary enterprise," said His Eminence as he addressed those present, "because we are inspired to give the gift of the knowledge of God from the abundance of our own blessings." His address was powerful and encouraging, and it highlighted the broad scope of missionary work, both as it's carried out actively by our missionaries overseas and passively as each of our lives shines as an example of our faith in the world. He also reflected on the Saint Photios National Shrine, since his visit coincided with the Shrine's annual feastday celebrations, and the early pioneers it represents, who brought with them the Orthodox faith to this country.
His Eminence acknowledged that there is yet still much work to be done in the world, and he expressed his support for our ministries. We greatly appreciated his visit, and we look forward to working, with his blessing, to continue the missionary work that Christ has called us all to do.
Click here to read His Eminence Archbishop Elpidophoros's full address to OCMC.