OCMC Trek4Missions is Back! Complete Miles for Missions this Summer!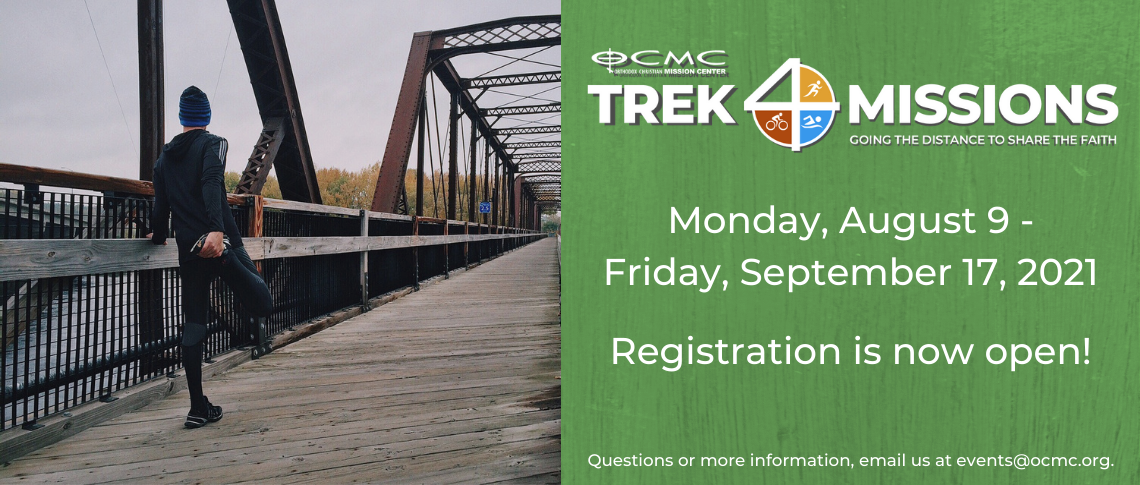 "Let us run with perseverance the race that is set before us, looking to Jesus the pioneer and perfecter of our faith." - Hebrews (12:1-2) 
The Race is on! Ready to log some miles for missions?! Last year we made history with our inaugural OCMC Virtual Trek4Missions gathering 225 participants to raise over $150,000 and log 20,000 miles. This year, by staying focused on Jesus, "the pioneer and perfecter of our faith," we believe that we can raise over $165,000 and log over 25,000 miles. BUT, we need your help to run this race and bring the Good News of Jesus Christ to the world! 
Beginning Monday, August 9th, and finishing up on Friday, September 17th, we need walkers, runners, cyclists, swimmers, kayakers, and more, to trek for missions so that we can recruit, train, send, and support OCMC missionaries throughout the world. 
"I liked that it was possible to 'trek' when and how it worked best for me," recalled Stephanie, team captain for Christ the Saviour Harrisburg in last year's trek. "I also appreciated that it is a multi-week event…that we could easily host a parish team and enjoyed the camaraderie that grew over the weeks." 
The trek is about staying healthy, having fun outdoors, and bringing communities together for a FREE enjoyable way to show your support for Christ's call to go and make disciples of all nations. 
Form a team at your parish, with family and friends, or even participate on your own to help proclaim Christ to all people. We welcome all ages and abilities to complete miles for missions. Everyone you register will receive a special Trek4Missions t-shirt for your efforts. 
Together we can make a difference! Together we can complete the race. 
For more information, visit: www.ocmc.org/trek4missions 
Questions? Contact us at events@ocmc.org or call 904-506-7110.