OCMC and Coronavirus Response
"As the universality of the pandemic is brought before our eyes, it confirms another reality that is much greater, and that is the love of our Lord."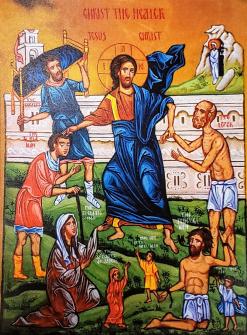 Dear Brothers and Sisters in the Lord,
As our world faces unprecedented challenges, I am writing to offer our prayers, compassion, and encouragement, along with informing you of how the pandemic is being dealt with at OCMC and with our missionaries around the world.
In this time of trouble, we offer our prayers for all who are suffering in the wake of the pandemic: whether physically, emotionally, financially, or other ways, for their health, recovery, protection, and encouragement. We offer our thanks to the many who continue their services and outreach to humanity - from health care workers to religious and civil leaders, community servants, people continuing to offer services in public spaces where they are vulnerable, and, of course, our missionaries, who continue to serve in very difficult conditions.
The rapid spread and tracking of this virus reveals many things. We see how closely-knit the world is today. Borders between nations, race, social classes, and religions are bypassed. Information is shared at lightning speed. We are presented with hourly updates on impacts happening locally and in the most faraway places.
As the universality of the pandemic is brought before our eyes, it confirms another reality that is much greater, and that is the love of our Lord, which goes even further in uniting and crossing all imaginable divides. Within our countries, cultures, cities, and daily lives, it is sometimes difficult to imagine our connection to people and places outside these boundaries. Yet, the love and the concern of the Lord is not limited to these boundaries. We are all a part of His Creation. We are His children, and in His eyes we are all equally loved.
I mentioned those who are sacrificially offering themselves in these difficult times and potentially placing themselves in harm's way. In reflecting on these examples, we can be encouraged. I was left in awe as I reflected on two examples from our OCMC missionaries. At the same time the Peace Corps called for the evacuation of all its volunteers worldwide, some of our missionaries, who had been in the United States raising support for another term, were jumping over hurdles to return to the people they serve. One reached a remote border crossing, only hours before it was to be closed, and had to talk his way past the guards, showing a newspaper clipping that proved he was still permitted to enter. He is now in quarantine for two weeks but living in solidarity with the people he serves. Another missionary, a mother with her two children, will be boarding an airplane tomorrow, not certain if the flight will be canceled, or if they will get stranded along the way. Though all were offered the option of evacuation, none of OCMC's missionaries have left their countries of service due to the crisis.
Our missionaries are providing examples of social responsibility as they support government and Church guidelines to help slow the spread of the pandemic. OCMC, too, is joining in this effort to do what we can. Beginning tonight, March 20th, our offices will operate remotely. All services provided by staff will continue, but we have postponed April retreats scheduled at OCMC and the May Mission Teams. We still hope things will subside by June, but in case they don't, our Executive Board has already initiated policies to allow funds that have been raised by team members to be used by them for later teams, or to be applied to future teams in the same locations.
These are just some of the ways that OCMC is participating in what must be a worldwide effort to continue responsibly with hope, doing what we can do individually and together, to address the spread of the coronavirus, and to have compassion on those who are most vulnerable. We encourage all to join in this response. We also humbly ask that in this time of uncertainty you remember, pray for, and support our missionaries who continue to serve around the world as part of our efforts to spread the love of Christ, who is the Healer of our souls and bodies.
In closing, we offer this prayer for you and for all. Please pray with us:
O God Almighty, Lord of heaven and earth, and of all creation visible and invisible, in Your goodness look down on Your people. Be our helper and defender in this day of affliction. You know our weakness. You hear our cry in repentance and contrition of heart.

O Lord who loves humanity, deliver us from the growing threats of the coronavirus. Send Your angels to watch over us and protect us. We ask that you slow the spread of the virus and help us do what we can to slow its spread.

Grant health, recovery, protection, and encouragement to those suffering from its effects: whether physically, emotionally, financially, or in any other way.

Guide the hands of the physicians, healthcare workers, and all those who continue to serve Your people in the face of this threat.

And preserve us all, O Lord, that we may continue to serve You in peace and glorify Your most honorable and majestic Name of the Father and of the Son and of the Holy Spirit, now and forevermore. Amen.
May the Lord bless, protect, and guide you in these days.
In His love,
Fr. Martin Ritsi
Executive Director, OCMC