North American Saints Inspire OCMC's Missionary Efforts
  
Click on the video to learn how OCMC came to have relics of these saints. 
The Orthodox Christian Mission Center (OCMC) headquarters is blessed to house relics of St. Herman of Alaska and St. Innocent, Apostle to America, two saints who are celebrated during the Synaxis of the Saints of North America on the second Sunday after Pentecost (June 18, 2023). These missionary saints from our own continent inspire us to follow their example!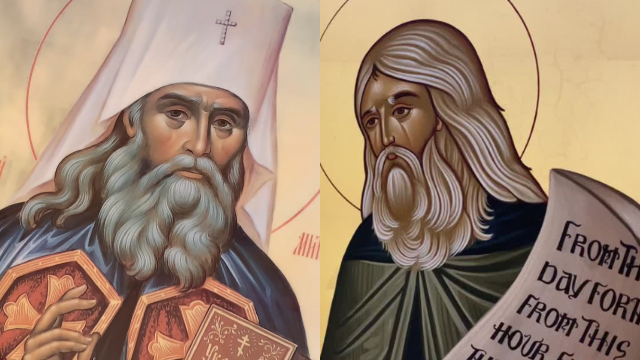 Icons of St. Innocent and St. Herman located at the Mission Center. 
 St. Herman, who reposed in 1837, was a part of the longest Orthodox missionary journey in history (7,327 miles) from Russia to Alaska. Upon arriving, he was instrumental in building schools and orphanages and in serving the local people much in the same way OCMC missionaries in Albania, Guatemala, Kenya, and elsewhere have done since 1985. 
Today, the OCMC translation team is at work equipping translators of Orthodox liturgical texts with the knowledge and tools needed to produce accurate and understandable translations that speak to the hearts of those who pray, hear, or read them. This vital effort echoes the work of St. Innocent (reposed 1879), who translated Orthodox services and books into the native languages of the people of Alaska. 
These are just two of many stories of Russian missionaries who came from Valaam Monastery, and elsewhere, and traveled to the North American shores of Alaska, not just to serve their Russian brethren, but the native Alaskans who lived there. Their examples of missionary service which began 230 years ago continue to inform and guide the global work of OCMC today. 
If you are called to follow in the footsteps of St. Herman or St. Innocent, click below learn more about how you can serve in the mission field. To contribute in the missionary efforts of OCMC's work, donate today. 
How To Serve in the Mission Field