New Digital Tool Spreads Gospel and Orthodox Faith In Spanish!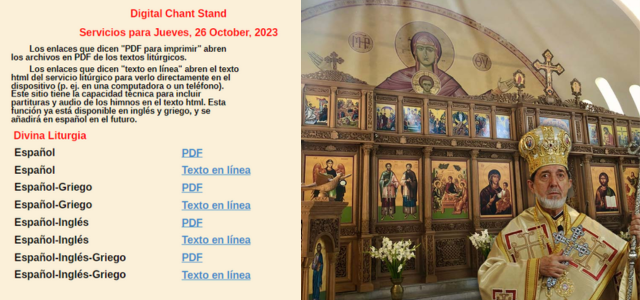 OCMC is pleased to launch the Liturgia Digital (Digital Liturgy) website in Spanish with a special Zoom event on Thursday, Oct. 26, at 8:30 PM EDT! Configured much like the Greek Orthodox Archdiocese of America's Digital Chant Stand, the Liturgia Digital contains complete Divine Liturgy texts for every day in Spanish, English, and Greek, including variable hymns and Scripture readings. It was developed by OCMC Missionary Jesse Brandow under the blessing of His Eminence Metropolitan ATHENAGORAS of Mexico, with assistance by fellow members of the team responsible for OCMC's Liturgical Translation Program.
Jesse reflects, "While the site has been created primarily for mission efforts in Central America, it also satisfies requests that OCMC's Latin-America-based missionaries have received from Orthodox faithful in North America for Spanish-language resources for their parishes. Liturgia Digital provides such a solution with a centralized website for everyone who requests Spanish liturgical resources."
To participate in this exciting 30-minute launch event, please click the button below to register and receive the Zoom invite. In addition to viewing a demonstration of this unique tool, participants will also learn more about the work of OCMC's Liturgical Translation Team as it endeavors to ensure that the Gospel and Orthodox services are made accessible in local languages to "make disciples of all nations." Jesse notes, "This site can be a powerful tool for evangelistic efforts in North America to Spanish-speaking faithful."
Please join us on Zoom next Thursday at 8:30 PM Eastern to see how you can use this powerful tool. At the event's conclusion, we will hold a drawing to choose two people from among the participants to receive a beautiful Spanish-language icon of Christ (wood prints measuring 6"x12"). This drawing is an expression of gratitude for everyone who has made the launch of Liturgia Digital possible.