Molding Today's Child for Tomorrow's World in Kenya
On a dusty road in Riruta-Satellite, about an hour from downtown Nairobi, Kenya, the St. Clement of Alexandria Primary School is a beacon of light, showing many the path to success and the Orthodox faith. Beginning in 2016, the School Stewardship Coordinator, Mrs. Virginia Gathoni, has offered an amazing mentorship program to the schools' older students and alumni. This program has offered the tools and skills to help hundreds of youth resist the temptations of corrupting social influences and equipped them to be better prepared for a complex and changing world.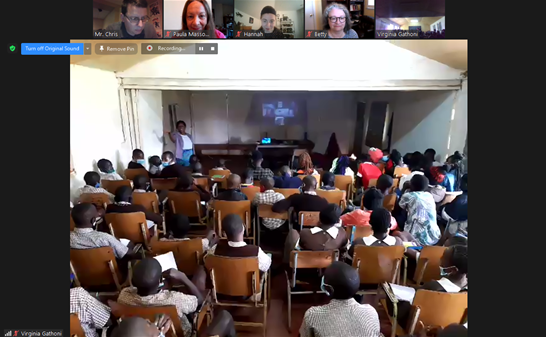 On May 18-19 a two-day OCMC Virtual event gathered seventy-five 6th to 8th graders and a smaller group of high school graduates for another successful mentorship program. Five graduates from the program, Bill Black, OCMC missionary to Kenya, and four OCMC Team Members, inspired and challenged the youth. Sessions were filled with teachings of the Orthodox faith, guidelines for using technology and social media, information about COVID-19, and an understanding of how to cope with anger and stress. The youth were lighthearted and excited to be together. By sharing from an Orthodox perspective and using examples from their own life stories and the lives of the saints, the Team inspired and equipped the youth to better navigate their teen years.
The coronavirus pandemic restrictions, which still impact much of the world, have prevented OCMC Teams from traveling to assist with the Mentorship Program since spring of 2019, but this virtual opportunity was a huge success. The Team consisted of individuals who were new and past Team Members, OCMC Ambassadors, and even an OCMC Board Member. Feedback from the mentors, who assisted, was very positive and they shared their appreciation for the topic material and the inspiration that was given by the presenters.   
In a debrief session, the Team Members and those in Kenya who organized the event shared how moved they were and how they look forward to other Virtual events as well as the time when this Mentorship Program can be offered in person. OCMC looks forward to sending Teams into the field to participate in this program during school breaks in the future. Stay posted for another OCMC Virtual Mentorship Program to St. Clement in July!