Missionary Models Christian Life for Albanian Youth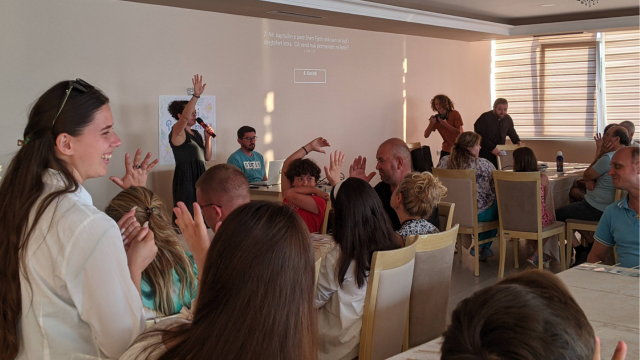 Orthodox Christian Mission Center (OCMC) Missionary Hannah Valentine has been striving to model an Orthodox Christian life for teens and children in Tirana, Albania since arriving there in December 2022. "I'm trying to help them build good habits in their personal beliefs," she said. "The best way I can do that is to be attentive to the example I set. Finding a balance between family life, work, school, and the cycle of church services shows that all these things have their place in my life and theirs. Each has its place in my life and theirs." 
Hannah's service is made possible by OCMC supporters, and she recently made a virtual presentation to one of her supporting parishes St. James Antiochian Orthodox Church in Modesto, CA.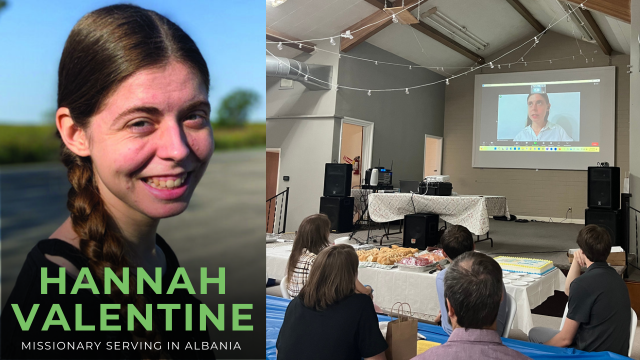 Hannah sharing an update of her ministry to the parishioners of St. James during coffee.
Among the highlights Hannah offered of her first few months of her work in Albania was a baptism of seven youths who are a part of the Sunday School class she leads after Divine Liturgy and two summer camps one that hosted families and another that welcomed 150 elementary school-aged children. 
"We hope they have gone home transformed," concluded Hannah. "It is common for children to voice their desire for baptism during, or following, these camp experiences."
Click below to learn more about Hannah's ministry in Albania. To support OCMC missionaries at work around the world go to www.ocmc.org/serve-from-home/give