Local Events Support OCMC's Global Reach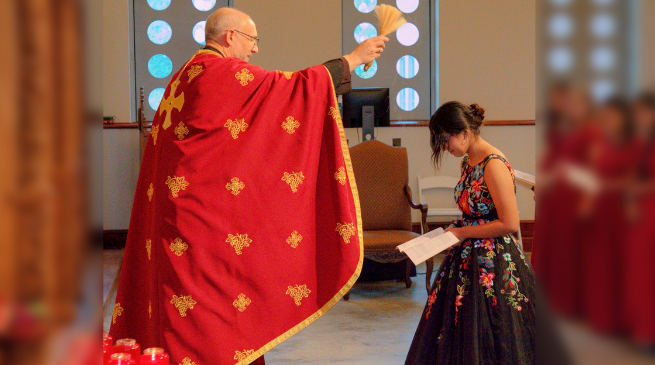 ---
While Orthodox Christians and communities around the U.S. often host events that support the global work of the Orthodox Christian Mission Center (OCMC) and its missionaries rarely does an OCMC fundraising event combine as many cultures as the quinceañera recently held in St. Louis, MO for Catherine Fitzmaurice.
"Catherine is adopted from Guatemala and has one Greek and one Irish parent, so she's very aware of all of the cultural influences on her life," said her mom, Bess. "She didn't want any gifts but instead wanted to raise money for OCMC to send to Guatemala. And she did so in a unique way that incorporated traditions of the whole family."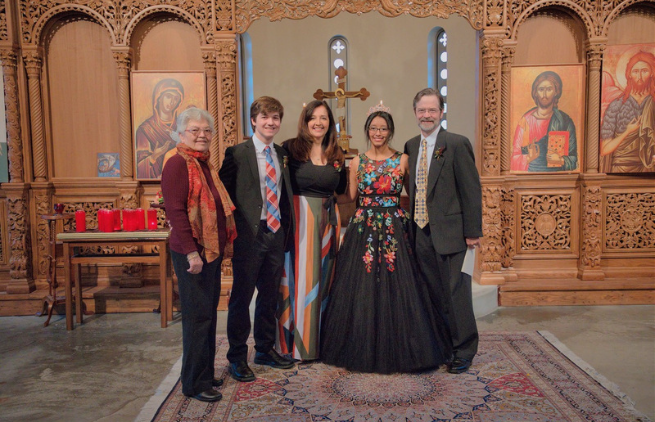 Catherine (second from the right) with her family. 
With the help of Fr. Michael Arbanas of St. Nicholas Greek Orthodox Church, Catherine received a blessing, read a prophecy from Jeremiah and offered remarks with her grandparents, Godparents, a court of kids from her school and about 80 others in attendance at her quinceaneara. As she had for International Day at St. Nicholas, Catherine wore a traditional Guatemalan dress.
The event raised about $2,000; almost half of which was directed to OCMC's Guatemala Medical Fund. Monies from this fund are used to train local individuals like Juanita Pascual, who has graduated medical school and is now in a three-year period of hospital rotations.
Click here to host an event in your parish or home and make your impact felt globally.