Jones Family Tackles Tonga Missionary Field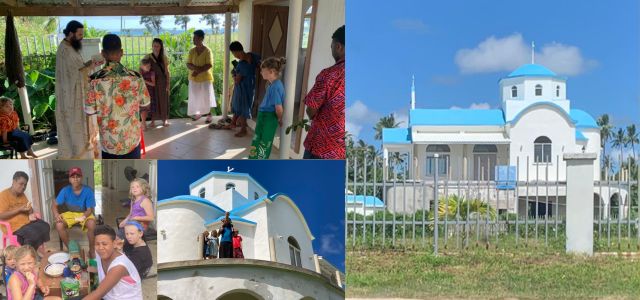 After a year of service in Fiji, OCMC Missionaries Michael and Meghan Jones are continuing to serve the Holy Metropolis of New Zealand in the Kingdom of Tonga.
"We have developed a plan to reclaim and beautify the [Sts. Peter & Paul] property so we can resume liturgical services and provide hospitality and catechism to parishioners, local guests, and those visiting from overseas," said Michael. "Our vision is to make the mission parish a place where worshippers and visitors feel welcome." 
Until the arrival of the Jones family in August and that of Fr. Bartholomew, Presbytera Lydia Senibulu, and their three children the chapel of Sts. Peter & Paul had not seen a Divine Liturgy since March 2020 when COVID lockdowns began. The church of St. George is currently under construction, and Michael Jones says he hopes its completion will lead to long term self-sustainability. 
Both the Jones and Senibulu families are working under the spiritual guidance of Abbot Meletios and will be coordinating building projects, teaching liturgical arts, conducting catechism, and building community with those who have embraced Orthodoxy in the South Pacific islands. 
Please remember the Jones family in your daily prayers, learn more about them and support their work and that of all OCMC missionaries by clicking below: 
Jones Family
Missionaries serving in Tonga