Join Thousands of Orthodox Youth and Create a VIRTUAL COIN BOX for Missions This Lent
This Lent, help share the love of Christ by supporting missions through a Virtual Coin Box Facebook fundraiser in support of the OCMC!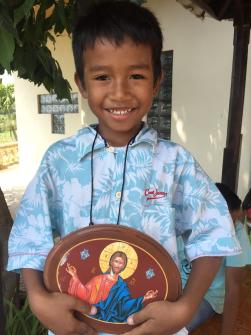 Every year OCMC sends out thousands of coin boxes to Sunday School students. Throughout Lent they are encouraged to be a part of the Church's global mission by filling them up with spare bills and change. Each year they raise over $25K that helps send missionaries and teams around the world to share the Orthodox Faith.
This Lent we are inviting you to join them!
From Mission Sunday, March 1st, until the beginning of Holy Week, April 12th, we invite you to fill a VIRTUAL COIN BOX!
It's easy! If you have a Facebook account you can create a VIRTUAL COIN BOX by following these simple steps:
Log in to Facebook.
If you're on a desktop, click the "Create" link at the top of the page and select "Fundraiser" from the dropdown.
If you're on a mobile device, click the menu icon in the upper right of the screen and select "Fundraisers" from the dropdown, then click the "Raise Money" button.
Choose the "Nonprofit" option
Search for "Orthodox Christian Mission Center" and select "Orthodox Christian Mission Center – OCMC" when it appears
Set your VIRTUAL COIN BOX goal…$200 is the default
Enter April 12th for the end date and click "Next"
For the fundraiser title, enter "VIRTUAL COIN BOX for Orthodox Missions" and click "Next"
Click "Create"
Invite everyone to support and share often and throughout Lent!
We will send everyone who sets up a VIRTUAL COIN BOX an icon of St. Herman of Alaska as a thank you for joining Orthodox Christian youth across the country in furthering the Church's mission. 2020 marks the 50th anniversary of his canonization!
Just imagine the difference that can be made in the world if even 100 people create and fill a VIRTUAL COIN BOX during Lent. Will you, in the spirit of St. Herman, be one of these people?
Thank you, and have a blessed Lent!