Introducing the Candelarios!
Keep Joseph and Euphrosini Candelario in your prayers, as they prepare to venture into the mission field!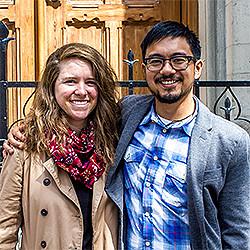 This Holy Week, we're all disappointed about not being able to celebrate Christ's passion and resurrection in church, due to the COVID-19 pandemic. There is a silver lining, however – and that is that this is perhaps the first time in history where most of our churches were able to quickly respond to the tragedy by streaming their services to us online! This has proven a great blessing for the Church – and so this week, we're highlighting 2 of our missionaries preparing to serve in Sweden, as a big part of their service will be the development of an online ministry there!
These missionaries are Josef and Euphrosini (Effy) Candelario. They were both born in California, and their search for truth and meaning led them both to discover Orthodoxy.
Having been led to the fullness of the Faith, they desired to go still deeper – and so they each strived to serve God with their unique talents. Josef had studied psychology at UC Davis, and when he began to learn about Orthodox theology, he found that his understanding of the human being, the soul, and healing had become more complete. With this realization, Josef also came to recognize his calling to the priesthood. Likewise, Effy studied graphic design at SDSU, and was drawn into the artistic beauty of Orthodox worship.
Josef and Effy's journey of faith not only led them to discover the great wealth of Christian spirituality and wealth in Orthodoxy; it also revealed the tragedy of the post-Christian West and its thirst for the faith it has abandoned.
With that realization, the Candelarios have decided to answer their call to become missionaries, and to serve the Metropolis of Sweden in Stockholm under the leadership of His Eminence Metropolitan Cleopas. There in Sweden, Josef will serve as a Pastoral Assistant at the cathedral, while also continuing his work in Youth and Campus Ministries. Effy will be offering her talents as part of the Internet Ministries team there. By offering their unique talents to Christ and His call to "make disciples of all nations", the Candelarios will be indispensable assets to the Orthodox mission in Sweden, and in welcoming the post-Christian West back into the Body of Christ.
The Candelarios are currently raising support and recruiting prayer partners in preparation for their launch into the mission field. But to do so, they need your prayers and support! As you pray with added fervor this Holy Week, please say some extra prayers for the ministries of Josef and Effy. Click here to follow their journey on their missionary blog, and click here to support them.