Historic Event on Ascension Evening
On the evening of the Feast of the Ascension of the Lord, the day that He commanded His followers to "Go therefore and make disciples of all nations…", a historic virtual event for the Orthodox Christian Mission Center (OCMC) occurred featuring OCMC's only two Executive Directors: His Grace Bishop DIMITRIOS of Xanthos, founding Executive Director, and current Executive Director, Fr. Martin Ritsi. They met to discuss the creation, continuation, and future of OCMC Mission Teams as part of the Connect with Mission Teams: Then & Now campaign. The goal of this campaign is to raise $30,000 for OCMC's Mission Teams program and help former mission team members reconnect. To date we are almost halfway to our goal, but we need your help to reach it!
If you missed the event, you can click the link below to view it, and if you haven't yet donated, please do so by clicking here.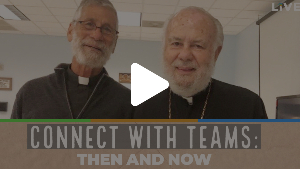 The Mission Center's first long-term missionary, Dan Christopulos, moderated the conversation. From the first missionaries to the first mission team in 1987, His Grace DIMITRIOS shared how the efforts began: from a standing committee to a department of the Church, to sending others out to engage in the Great Commission. His Grace noted that teams were a natural fit for the future and growth of missions.
Fr. Martin recalled the hosting of his first team in Kenya in 1988 and the impression it left on him, knowing that others decided to share in this work. The need to share Christ's love with all people around the world is vital, and going forward, OCMC will continue its efforts to innovate and engage.
Throughout the evening, the speakers entertained questions about the history of OCMC, the impact of the work in the field, and invited others to participate in this unending work. Participants were also given the opportunity to donate to the Making Connections campaign, helping raise over $12,500 for the OCMC Mission Teams program.
The program included memorable moments from the early years of mission teams. The evening concluded with an exclusive live event comprised of team members, past missionaries, board members, and OCMC Ambassadors chatting with the Executive Directors and the OCMC Teams Department Directors, Andrew Lekos and Pres. Renee Ritsi, who joined in for the live Q and A.