Good News: Your GivingTuesdayNow Donations Will Be Matched!
"We thank God for everything, for all of you. May this pandemic unite us rather than divide us, may it be a blessing rather than a curse... God save your people and bless your inheritance! Amen!" -His Grace Bishop Neofitos of Nyeri, Kenya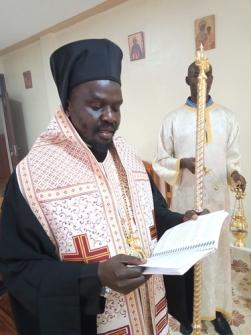 Just a few days ago, we announced that we'd strive to raise $2,000 by next Tuesday (May 5) for GivingTuesdayNow. Since then, we've already been approached by an anonymous donor that offered to match gifts up to $5,000!
Thanks to our donor's immense generosity, all of your contributions will now go twice as far! In order to make the most of this generous offer, we're raising our goal to $10,000 – so we can make the most of this matching gift.
The contributions you make for GivingTuesdayNow will go to the priests of our Support A Mission Priest (SAMP) program around the world, who have been most affected by COVID-19. Many of them were already living and ministering with limited resources before the pandemic hit. Now, life is that much more difficult for them. We can help carry them and their communities through these extremely difficult times.
The members of the Body of Christ are never truly isolated from one another. While we may all be separated physically, it's more important now than ever before that we stay united spiritually. Please keep our mission priests in your prayers, and if you still have the means, consider contributing to make a huge difference in their lives amidst this catastrophe. We're all praying for you as well, that God may keep and protect and heal you in these difficult times.