God Grant Many Years to the Newly Wedded Jesse and Juanita
Congratulations to Jesse and Juanita!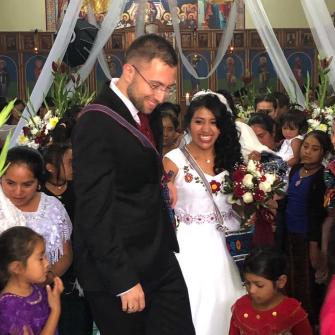 OCMC Missionary Jesse Brandow married Juanita Pascual on December 29, 2019. We are all so excited for them, and for all the plans God has for them in the future!
Juanita is from Aguacate, Guatemala, where Jesse met her as he was beginning his work as a missionary. She is currently a medical student, studying in the city of Huehuetenango. Over the past couple years, they worked together, along with the other missionaries in Aguacate, in the choir and the health clinic there. Around the beginning of 2019, they finally spoke about marriage, received Juanita's parents' blessing, and were soon engaged!
The wedding took place at the Holy Annunciation Cathedral in Aguacate, Guatemala, on December 29th. They had the blessing of having their wedding during the Divine Liturgy. Afterwards, they served a celebratory lunch for all those in attendance – both those visiting from afar, as well as the whole Orthodox community of Aguacate.
Marriage is a beautiful blessing, and we are excited for all that will come from the union of these two wonderful people. Going forward, they will both continue to be involved in the mission work; Juanita will be completing her studies in Huehuetenango, where Jesse will join her and continue his work from there. Once she graduates from medical school, they plan to return to Aguacate, where she will work as a missionary doctor in the medical clinic.
Congratulations, Jesse and Juanita, and may God always bless your marriage and all the good work you will do together in His name!
Please keep Jesse and Juanita in your prayers, and follow Jesse's blog at:
http://www.mayanorthodoxy.com/jesse