Go the Distance with the 2020 Virtual Trek4Missions
Imagine contributing to St. Herman's 7,300 mile trek from Valaam Monastery to Kodiak, Alaska! How far will you go for missions this Fall?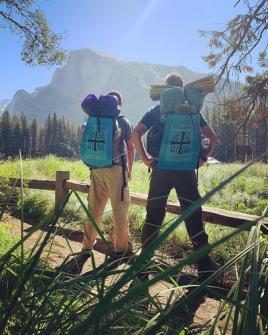 Calling all walkers, runners, cyclists, swimmers, kayakers, and more...It is time to GO into the world to share the faith! This summer, we are inviting you to join our interactive event, the 2020 Virtual Trek4Missions, held from August 9 to September 14.
Missionary saints since the time of the Holy Apostles have left the comfort of their homes to bring Christ's love to the world. Following in their footsteps, we have a responsibility to reach those who have not yet heard the Gospel message. This virtual event, unlike a traditional Mission Walk or 5K, is about staying healthy, having fun outdoors, and uniting to support the training and building up of a new generation of Orthodox missionaries. We are asking communities from across the nation to come together as the Body of Christ to take up our cross and "trek" for missions!
Our goal is to virtually trek 60,000 collective miles and to raise $100,000. We are challenging parishes nationwide to form a team of 10+ members to complete 1,200 miles or more by foot, on a bike, or in the water and raise at least $2,000 in five weeks. It is free to join, and shirts are guaranteed.
Participants of all ages and abilities are welcome to register! Whether you are a walker, runner, swimmer, cyclist, or you just like to stay active, help demonstrate your commitment to Christ's Great Commission "to make disciples of all nations" (Matthew 28:19). If you are unable to form a team, never fear. You can still register as an individual!
Keep an eye out in the weeks ahead for information on how to register. Be creative and start something exciting in your community to help support a new generation of missionaries!
If you would like more information or to discuss this event in more detail, please call 1-877-463-6784 or send an email to events@ocmc.org.