Follow in the Footsteps of St. Herman This Lent by Supporting Missions
Help continue the missionary legacy of St. Herman of Alaska by support OCMC this Lent in honor of the 50th anniversary of his canonization.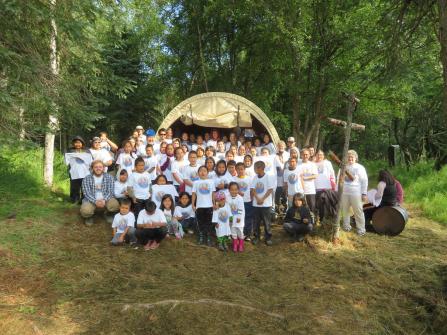 Dear Brothers and Sisters in Christ,
For a moment, imagine an entire village gathered at the water's edge, surrounded by the majestic beauty of Alaska. They have come to hear the Good News – that God's Son came into the world just for them!
This is exactly what St. Herman experienced in 1794 and what Orthodox missionaries and team members experience today following in his footsteps.
As they have continued the work of St. Herman in Alaska, you too are needed to continue this work around the world. Last year, team members to Alaska ministered to 144 youth, teaching them about the Faith first brought to their ancestors by St. Herman!
I share with you St. Herman and the Alaska mission because this year marks the 50th anniversary of the canonization of this missionary saint. The ministries of the OCMC carry on his work, just as St. Herman carried on the work of Sts. Cyril and Methodius and the Apostles themselves.
This Lent, will you please consider two gifts? One, during Lent in honor of St. Herman and the missionary saints who preceded him. And, one during Holy Week to continue their work in places like Alaska and beyond!
In 2020, OCMC will be sending 3 mission teams to minister to youth, and OCMC missionaries Floyd Frantz and Felice Stewart are training clergy to provide substance abuse counseling to people trying to free themselves from addiction.
Your gifts will make the mission of the Church possible in Alaska, but also throughout the world!
Thank you for continuing the missionary work of the Apostles and St. Herman.
Please remember Orthodox Christian Missionaries that are serving in the world today. They would not be there without you.
May you and your loved ones have a blessed Lenten journey.
In Christ,
Fr. Martin Ritsi
Executive Director
PS – Turn social media into a place that helps in your Lenten journey! This year we are asking people to start Facebook fundraisers for OCMC starting at the beginning of Lent, March 1st, and end right before Holy Week. Please e-mail OCMC's Marketing and Communications Coordinator, Niko Birbilis at niko@ocmc.org to learn how to turn your social media page into a tool for sharing the Faith!