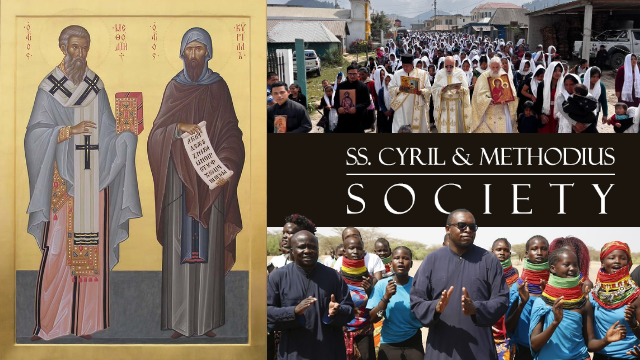 Ask just about any Orthodox Christian Mission Center (OCMC) missionary what is the key to connecting with people in the country they serve. The answer is short: "Learn the language and local culture." 
 "If we really want to deeply connect with people, we need to take the time to learn their language," said OCMC Missionary, Nathan Hoppe, who has been serving in Albania for 25 years. 
This is the example set by Sts. Cyril and Methodius, who are commemorated today (May 11). These brothers and saints who are considered equal to the apostles, created an alphabet that evolved into Cyrillic and allowed the Gospel to be spread throughout the Slavonic world. The Cyrillic alphabet also enabled translation of the Divine Liturgy and other services, the Holy Canons, and other Christian literature. Indeed, Sts. Cyril and Methodius are among the greatest examples of Orthodox missionaries. 
Click below to In fact, OCMC named its Sts. Cyril and Methodius Society a group of recurring givers who support the salvific work of the mission center, its missionaries, and their work worldwide in honor of these saints. "Intercede with the Master of all, that He may strengthen all Orthodox peoples in the true faith" (from the Troparion).
Click below to become part of the Sts. Cyril and Methodius Society at OCMC today. And if you're inspired to emulate the lives of these saints by exploring your calling to becoming a missionary, click here.