Deliverance from the Curse of Dependency
Dr. Joseph William "Bill" Black is an OCMC Missionary serving in Nairobi, Kenya. Bill is a lecturer at Makarios III Patriarchal Orthodox Seminary and at St. Paul's University in Limuru and Nairobi. This article is an excerpt from his upcoming book Rethinking Stewardship for Your Church (Oasis Publishing) will be forthcoming in Spring 2020.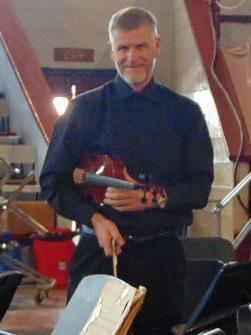 What Is Dependency?
Glenn Penner, who led the Canadian segment of the ministry called Voice of the Martyrs, defines dependency as "a state where Christians as individuals or as a congregation allowed themselves to become reliant on another outside group or individual for financial and material means and, sometimes, administrative guidance, and are not therefore functioning in an indigenous manner... The assumption by the dependent is that they cannot accomplish what God is calling them to do without foreign assistance, nor should they be expected to." 
Many Christians and churches across Africa struggle with the concept of financial responsibility. This is not entirely their fault. The absence of a theology of self-reliance and financial independence can be traced back to the beginnings of gospel efforts by European and North American missionaries.
The early missionaries and the African people who came to learn the way of Christ usually had very good intentions. The missionaries sincerely worked to meet the needs of the local population, create good will, and then attract and establish a worshiping community. Many people were attracted to Jesus and the life-changing truth of his Word. However, in some places, becoming a Christian became associated with gaining access to resources. It was perceived as a way out of poverty and into opportunity rather than a call to self-sacrifice. Some people sought positions of responsibility to exercise power and authority over the community, or even to gain access to wealth and property. Sometimes, the men, women, and children attracted to the mission and its new community saw themselves as entitled beneficiaries of these opportunities rather than contributing members. "Church" and "mission" were something that someone on the outside does for us, rather than as something we ourselves are and do.
The Fruit of Dependency
One can understand the desire of so many to better their lives, to provide for their family, to fit in with the regime in power and not cause trouble. The real cost of dependency is probably best seen in the life of the local churches themselves. To this day, in some churches, members place something in the offering basket, but the amount would not be enough to provide a cup of tea for everyone after the service, or to pay for the pastor's petrol for his motorbike ride home. When asked why the congregation doesn't pay the pastor's salary when they obviously have the means to do so, the universal response is that it is the denominational office's job. "We can't afford to pay for his salary, or for anything," the thinking goes. "We are too poor. "
It is a great tragedy when any of us, from whatever background or level in society, fall into the assumption that Christianity is something done for us. Church is something we attend. In such cases, there is no ownership of the gospel, no sense of responsibility for the Church's mission. We think Jesus has provided for our eternal salvation, but he is irrelevant to the way we steward (manage) our resources. We may call ourselves Christians, but we are not really Christ's disciples.
Finding the Way Out of Dependency
To be honest, many mission leaders did not expect the church in Africa to survive without foreign support. The dependency mentality had assumed that African Christians had nothing to offer. But many African-led churches emerged out of dependency and found their stride as self-sufficient entities in the Christian family.
Today, Christianity is growing fastest in Africa! This should encourage us that outside help is not what will fuel growth, but rather ownership and responsibility. Instead of saying, "We don't have enough", we need to realize that our generous God has blessed us. Like the boy who offered Jesus his loaves and fishes or the woman who baked her last bread for Elijah, let's have confidence that God can use whatever we have. God has already given us enough to be generous.... God can use us to bless the world.
"Do You Want to Be Healed?"
I can spend a lot of time talking about where dependency comes from, about its effects, about how Christ teaches a different way, and about how dependency is fatal to genuine Christianity. But I will be wasting my time if there is no interest on the part of those stuck in dependency to be set free.
When Jesus met the paralyzed man lying by the pool of Bethesda in Jerusalem, he asked a question that may have sounded strange: "Do you want to get well?" (John 5:6). He was, after all, the Son of God with full healing powers. Yet he wanted to know the man's frame of mind.
He is asking the same of the Churches around the world. Many have been bent backwards in a posture of dependency for as long as they can remember. It's the only existence they know. The Lord asks, "Do you want to be made well?"
Surrounded by other Christians, by entire churches, by clergy and denominational officials who only know dependency, they feel the peer pressure to maintain the status quo, to try to keep the tap of foreign money open and flowing. "Do you want to be made well?" 
Maybe we are afraid that we will lose members, lose churches, lose clergy – and in fact, that may happen. But if those people refuse to believe the gospel and grow in Christ, thereby hindering other people from growing in Christ, are they really concerned about Christ or his agenda for his church? To be held back by fear of losing members may show our unwillingness to be Christ's steward and disciple.
Christ calls us to move forward with him, not in reverse away from him. Dependency is a sickness, a paralysis, that Christ can heal. But we must want him to do so. And the way to be rid of dependency is to respond to Christ's call to be a steward and a disciple instead.
Sometimes we are afraid of what we don't know and want to hold onto the way it's always been, even if that way is proving destructive to the church. The only way to escape this dependency on somebody else's money, is for us Christians to learn how to be the stewards God has called us to be.